Biography of The Fascinated.


Beki Colada is an Australian native who grew up on a steady diet of Cyndi Lauper and Missing Persons. Beki first found success when her band The Mavis's topped the charts in her home country, won numerous awards, and toured with Kylie Minogue and Green Day. After travelling the world and working with a myriad of well-known producers, Beki settled in Los Angeles in 2010.


---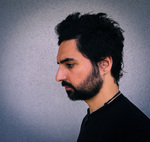 lionel Cohen is a French-born New Yorker who grew up on Duran Duran and Genesis. His NYC rock band "The Plastic Fantastics" is well known in the underground scene of the 00's. And while his solo albums have over 1,000,000 plays on Spotify, most of his success comes from scoring Films and TV (with over 250 IMDb credits) and producing over 150 albums. lionel relocated to Los Angeles in 2013.


---

The two found each other through Craigslist in 2014 and, with lionel producing and Beki's unmistakable voice, they formed "The Fascinated".
---